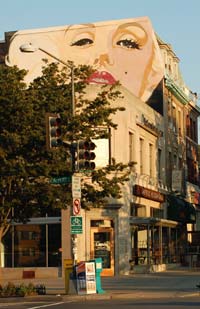 Parking at Salon Roi
Salon Roi is located at 2602 Connecticut Avenue NW, at the corner of Connecticut Ave and Calvert Street.
Colonial Parking garage is conveniently located kitty-corner to Salon Roi, at 2300 Calvert Street NW, which is underground parking at the first and only building on the corner of Connecticut and Calvert before the bridge towards Adam's Morgan. Please watch for Colonial Parking sign.
Another Colonial lot is located behind the Bank of America. The lot is unmarked and can be accessed by turning from Connecticut Ave. onto Woodley Rd., go right onto Woodley Road from the south, left if you are coming from the north, and make another sharp right into the parking alley.
We recommend arriving early and attempting to find a street parking spot on Saturdays and Sundays, due to the escalated prices at the Colonial garage. However, if you present your parking stub when you check out we will be happy to offer a 10% discount off your beauty service ticket any day of the week. (Please note that this discount will be applied so long as the amount discounted does not exceed the price of parking.)
Public Transportatin
Salon Roi is located three quarters of a block south of the Woodley Park Metro station and the Woodley Park stop for the D.C. Circulator, the salon is also very near stops for the L1, L2 and 96 busses. For more details, please see the map below.
Address:
2602 Connecticut Ave, NW
Washington, DC 20008
Tel: (202) 234-2668
E-mail: salonroi@yahoo.com
Web site: www.salonroidc.com
Social Media: Facebook, Twitter & Pinterest